Priority Area:
Access to Higher and Further Education
Access to the Labour Market
Objectives:
STEAM education: A key to access Higher Education for vulnerable Syrian and Lebanese youth aims to strengthen the pipeline to Higher Education for Syrian refugees and vulnerable Lebanese students (ages 15-22) through the creation of a makerspace (STEAM Lab).
The project seeks to
Limit the risk of drop out from secondary education and supporting access to higher education to Syrian refugee and vulnerable Lebanese youth by providing STEAM education and support
Improve transferable skills and facilitating access to labor market by enhancing the critical thinking of the students and develop 21st century skills such analytical skills, problem solving skills, digital fabrication, manufacturing, electronics and coding micro-controllers
Improve the capacity of secondary level science educators
Target group:
120 Syrian refugees and Lebanese from vulnerable communities between the ages of 15 and 22 years enrolled in Lebanese Secondary public schools in grades 11 and 12.
20 Middle and Secondary Lebanese and Syrian science and math teachers teaching in Lebanese public schools in the Bekaa area
Project Location: Saadnayel and Bar Elias, Bekaa, Lebanon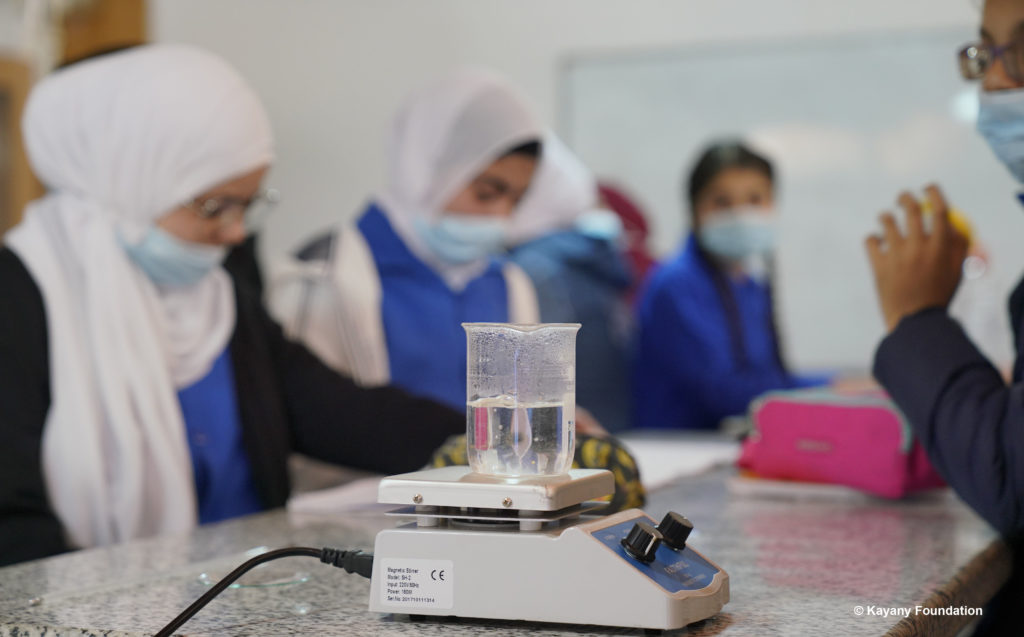 Planned Activities: To achieve the project's objectives, the following activities will be implemented
Establishing two STEAM labs called the "Young Makers Labs" to serve Syrian refugee and vulnerable Lebanese youth at Kayany's Middle Schools in Saadnayel and Bar Elias.
STEAM curriculum design to enhance and modernize Kayany's sciences and math program
Training of Teachers ToT for science and mathematics teachers at Kayany's middle schools
Students Outreach and registration
Delivery of courses and workshops. The duration of each cycle will be three months targeting 30 students per cycle. Each cycle will comprise a total of 24 days, each day will be 3 hours of training.

STEAM courses and blended into Lebanese curriculum with 120 students
3D skills and 3d printing courses with 60 students
Electronics and coding micro-controllers with 60 students
Expected deliverables:
Students 'critical thinking and understanding of sciences, mathematics and technology subjects will be improved
Kayany Foundation will track the student's development and accomplishments and will make a registry of the students who succeed and continue their path to higher education.
At the end of each course, students are asked to submit projects utilizing the skills they learned to develop a solution for a challenge they face. Students can benefit from the end of course project by making products they need and cannot afford to buy or by selling their own products.
The capacity-building provided to science and math educators will continue to positively impact the teacher's performance in the future.
MORE ABOUT KAYANY FOUNDATION AND YOUNG MAKERS
About Kayany Foundation
Kayany Foundation is a Lebanese non-governmental organization founded in 2013 in response to the Syrian crisis. Kayany operates educational programs for Syrian refugee children and youth residing in the informal tented settlements (ITSs).
In partnership with the Center for Civic Engagement and Community Service at AUB, the foundation established 9 GHATA portable accredited schools in the Beqaa valley. With this effective and sustainable school design, Kayany took a leading role in bringing quality education to "OUT OF SCHOOL" refugees. Its projects and programs have been expanding ever since. More info